CODE OF ETHICS FOR UMPIRES
1. No talking to coaches or players (fraternizing)
2. Keep uniform in good condition and be active and alert on the baseball diamond
3. Be courteous to baseball team coaches, players, etc.
4. Upon entering the baseball park your sole duty is to umpire a game as the representative of the game of baseball
5. Keep the game moving. "Be energetic"
6. Umpiring baseball is often trying and requires much patience and good judgment
7. You will make mistakes. Never attempt to "EVEN UP"
8. Make all decisions as you see them. Forget which is the home or visiting team
9. Keep your eye on the baseball at all times
10. Timing is everything – let the play develop, then make your decision
11. Work with your partner! (You are a team) Make sure you go over simple signals so you're on the same page. **Work with your partner if in doubt of a call. Don't hesitate to consult your partner.
BASEBALL UMPIRE DIGNITY IS VERY IMPORTANT BUT NEVER AS IMPORTANT AS
ALWAYS REMEMBER TO BE: Courteous, Impartial/Fair, Firm
"THIS WILL COMPEL RESPECT FROM EVERYONE"
AN UMPIRE IS EXPECTED TO KNOW THE RULES
An important Proverb "Get wisdom and understanding"
Umpires must be able to explain rulings because judgment is relative. Ten people can see a play and judge it ten different ways, but the rules are explained correctly by wisdom and experience within the spirit of the game. An example would be the phantom rule on a double play. Most second baseman don't touch second. The runners still are called out unless the foot of the infielder is way off the bag. Understand distances and angles. They are very important to your credibility. Common sense and fair play are important. Also know advantage/disadvantage principles. Pace of Play "keep the ball game moving." Understand live and dead ball rules and whether it is immediately dead or delayed dead ball. Remember your code of ethics.
Knowing equipment and the dimensions of the playing field are very important.
LEARN THESE RULES: STUDY THE RULE BOOK!!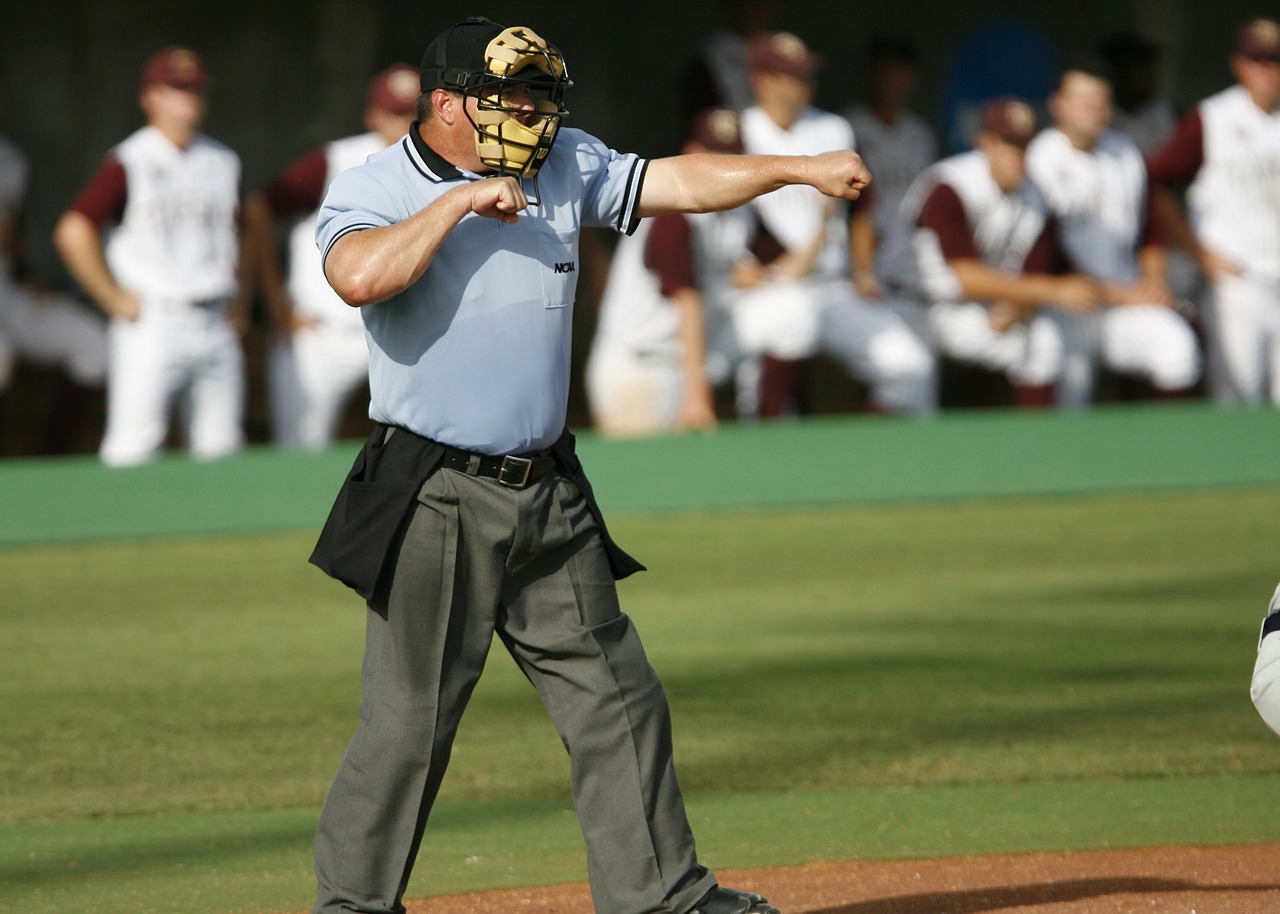 "SCORING A RUN (HOW A RUN SCORES) YOU MAY BE SAYING "OH COME ON"!! WINNING OR LOSING THE GAME IS DETERMINED BY RUNS SCORED!!
The code of ethics should be deeply ingrained and practiced.
THE PITCHER
THE BATTER
THE RUNNER
THE FIELDER
****KNOW AND LEARN THE MYTHS OF BASEBALL****
LOOK LIKE AN UMPIRE"
"LOOK AND ACT LIKE AN UMPIRE. IT WILL BE THE 4TH INNING UNTIL THEY REALIZE YOU DON"T KNOW WHAT YOU'RE DOING." Tommy Gyer
THE WAY YOU DRESS AND LOOK IS IMPORTANT. THE FIRST IMPRESSION IS A LASTING IMPRESSION!!
What equipment and uniforms are necessary for the AMATEUR BASEBALL UMPIRE?
"Put on the whole armor of God" Ephesians 6:11
An amateur umpire should put on the full uniform also. Always remember to be professional, polite, but most of all firm.
Some Umpire Uniform Tips
1. Have shoes for both the plate and bases (steel-toes for working the plate)
2. Have both plate and base pants and use a wide black belt
3. Have two(2) ball bags (navy blue)
4. Short and long sleeved shirts (navy blue or powder blue)
5. Combo fitted cap for the plate and long billed fitted cap for the bases
6. Always wear an athletic supporter and protective cup (plate and bases)
 "I worked a college (NCAA) game back in the mid 1990's. A line drive hit me inside my right knee. I dropped to the ground in pain. I did not wear a protective cup on the bases before that time. I could not react to the line drive fast enough. If the hit was eight inches higher I would have been hurt you know where. So always enter the field as an umpire with a protective cup. I wear one every time now."
a. Have compression pants and underwear
b. Jacket, gloves and sunglasses
c. Plate brush, pencils and line-up card case
d. Ball/strike indicator
e. Watch or stopwatch
f. Mask, chest protector and shin guards
Your local chapter may vary from the above recommendations. Know your local chapter uniform. Make sure when you walk on the field of play you are in a Baseball Umpire Uniform that is exactly the same as your partner(s).
JOIN A LOCAL BASEBALL UMPIRE CHAPTER. THERE YOU WILL RECEIVE THE GUIDANCE AND KNOWLEDGE YOU NEED TO SUCCEED. ASK QUESTIONS. THE ONLY DUMB QUESTION IS THE ONE YOU DON'T ASK!