Game Management Principles One for umpires are good tips for umpires of every level. Remember the umpire must manage the game and to know key principles is vital.
DO NOT COMPETE WITH YOUR UMPIRE PARTNER/S
Umpire as a team effort.
Always work at being the best partner that you can.
If your partner has a problem, the team has a problem.
Work together as a team and think tog

ether

.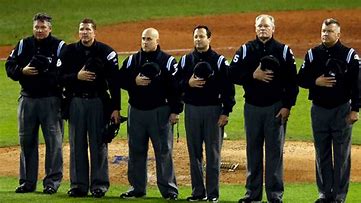 The Responsibility of the Umpire: Do not allow someone else's behavior or irresponsibility control you!
Fans expect players and managers to act irrational sometimes.
Umpires are expected to be professional and rational at all times and they should be.
Keep high standards and don't lower them.
Have your own standards and stick to them.
Respect is not earned just because you have a uniform and have passed a test!!
What comes with the umpire uniform? You must have it clean. Be responsible.
Learn how to earn peoples respect.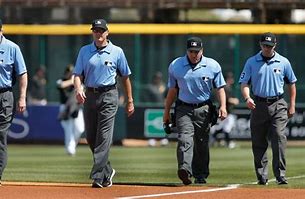 Work Hard: Every Game, Every Pitch
Each pitch and play means something to someone!!
Never let up. Keep your guard up or you will get in trouble. Do not let your intensity diminish.
Expect the unexpected. Be assured that is what will happen on the ball field.
Remember as Yogi said: "it isn't over till it's over." Don't keep track of the score.
Be prepared on every pitch and every play.
This is Umpiring Baseball not Politics!
If you want to be political, run for office and forget umpiring. Politics won't work.
Participants in the ball game see through a "brown nose". Don't be insecure. Learn and know what you are supposed to do.
Communicate and be courteous. Act professional.
NEVER compromise your integrity. NEVER EVER be intimidated.
Remember everyone is watching you in the fish bowl
Players want to win respect. Your job as umpire is to make the call. Forget passing judgment.
Respect players.
Exceptional players have earned the right to be where they are because of hard work and their skills.
Do not dwell on player and coach personalities. Umpire the baseball game.
Control the game. Take charge. It is yours to control.
People understand things differently

.
Trying times are an opportunity to prove how professional and good you are
Tough situations are opportunities. Think of them as such.
Learn from your mistakes and build on experiences.
15 years as an umpire is not the same as 15 years of experience.
Mentally it is impossible to leave a game and never think about that game.
Not only is it impossible, but is ineffective to learn that way and to grow as an umpire.
Expectation should be Realistic.
Go over your good and bad qualities but don't beat yourself up over mistakes. Learn from your mistakes. We all make them.
Don't exaggerate a sense of greatness. Give yourself honest and humble critiques.
Umpiring can be a humbling experience. Even the most experienced umpires make terrible mistakes. We are all human. Aren't we?
An unrealistic critique of yourself as an umpire can cause you real problems.
Always be learning and improving. Be able. Be confident by learning.
Be Honest with Yourself!
If you cannot believe yourself when you look in the mirror, who can you believe or trust.