Ron Luciano was a colorful, flamboyant and clever umpire. Known for his famous book, "The Umpire Strikes Back," taken from the Star Wars movie, "The Empire Strikes Back," that was popular in his time. He wrote and published several books about his umpiring career. Known to be a very dramatic umpire, he had a long-time feud with Baltimore Orioles obnoxious manager, Earl Weaver.
Ron was born on June 28, 1937 in upstate New York in the town of Endicott and resided there all of his life. In his youth, before his umpiring career began, he was an accomplished football player. He was 6'4″ tall and weighed 260 pounds, making him perfect as a tackle for the Orangemen of Syracuse University. While attending Syracuse, he was a mathematics major. As an All-American football player in 1958 he played in the 1957 Cotton Bowl. In 1959 he was a member of the Syracuse Orangeman national championship team that included Ernie Davis, future Heisman Trophy winner. Ron was drafted in the third round in 1959 for the Detroit Lions in the National Football League. However, he had a serious shoulder injury from the college All-Star game and did not play for the Lions. After being picked up by the Buffalo Bills in 1960, he had a knee injury and was retired after only playing two games in 1961.
In 1969 Ron Luciano became a MLB umpire for the American League. His umpiring career started in the Class A Florida State League in 1964, being promoted to AA Eastern League in 1965 and AAA International League in 1967. He was an American League Umpire until he retired in 1980.
His style of umpiring was unique to say the least. He had an "out call" where he acted as though he was "shooting out" the runner. Luciano had a record of 16 shoot-out calls counted by Bill Haller who said, "He gave an out sign one time at the plate and pumped his right hand at least 12 times." Ron said "I was so carried away that I never saw the ball rolling to the backstop. Fortunately someone pointed to the loose ball and I changed my call." Luciano stood alone as an umpire with his theatrical style on the ball field. He called routine outs and "cans of corn" with enthusiasm that was unheard of by other umpires. As far as the code of conduct for umpires, Ron played the rules very loosely. An example of his individualism was that he stood as a second base umpire between the pitcher and the base as National League umpires. The American League mandated that the umpire work behind second base. Talking to players between inning is not allowed by the League. However, Luciano talked to players most of the time. In a spring training game in the early 70's, he played third base for Buddy Bell and Bell took his umpiring position for part of an inning. He and Bell were called on the carpet for the prank. He had his crazy style of calling a game but was very well respected by coaches, managers and players. In 1974 Ron was voted by an American League Player Association poll as being one of a few American League umpires with a rating of "Excellent".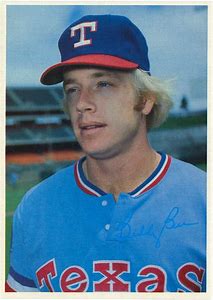 BUDDY BELL
TEXAS RANGERS
---
He had a career feud with Baltimore Orioles Manager Earl Weaver!
"The problem with Earl (Weaver) is that he holds a grudge. Other managers, if they disagree with a call, may holler and shout, but you can still go out for a beer with them after the game. Not Earl. He never forgets. Heck, he even holds your minor league record against you. Once, a couple of years ago, I made a controversial call at the plate. Earl charged out of the dugout, screaming that that was the same call I'd blown at Elmira in 1966. That sort of thing can get to you." (from The Book of Sports Lists 3 Pepe and Hollander)
EARL WEAVER ORIOLES MANAGER
Earl Weaver and Ron Luciano had a feud that lasted their careers. Both were active in the MLB about the same time. Luciano was working in the minor leagues the same time that Weaver was managing. Their relationship did not get off to a good start, to say the least. They were acquainted in Reading, PA in 1965 when both worked in Double A. Weaver was managing the Elmira Pioneers in a four-game series and Luciano ejected Weaver from all four games. In the last game, Weaver's ejection came in the pre-game conference. Later in 1967 as they both were promoted to Triple A, they had an argument and Weaver took second base into the dugout and refused to put it back on the playing field. As manager of the Baltimore Orioles and American League Umpire, Weaver was ejected so many times that his players would take bets on the inning that their manager would be ejected from the ball game. Luciano ejected Weaver both ends of a double header and the second game was similar to the minors. The ejection came before the second game at the pre-game conference. As the feud became more intense, the League changed Luciano's schedule so that he was not scheduled for any Orioles games. In 1979 in a game at Comisky Park Chicago, Luciano ejected Weaver and Earl questioned Luciano's "integrity" publicly. Weaver was suspended for three games. The long time feud ended on a good note. Luciano said of Weaver, "It is impossible for me not to admire him, but it's pretty hard for me to like him." And Weaver said of Luciano, "One of the few umpires people have paid their way into the park to see." It all ended up with a deep respect for the other.
---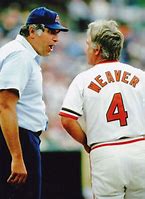 Ron Luciano's Accomplishments as an Umpire
Member of the 1974 World Series Crew
American League Championship Series – 1971, 1975 and 1978
All-Star Game 1973
Worked the Plate in Noland Ryan's second no-hitter (Detroit July 15, 1973)
Ron was a spokesman for the Major League Umpires Association and a leader in the 1979 Umpires Strike. He also served two times as the president of the Association of Major League Umpires.
---
Ron married Polly Dixon, a flight attendant, in 1974. Traveling as an umpire put a strain on their marriage because they were seldom together. Polly wanted to live in Chicago and Ron didn't like that part of the country. Polly did not want to live in New York State. Having no children they divorced before they had been married two years.
In 1980 Ron Luciano retired from his umpiring career. He worked two years as a commentator on NBC's "Game of the Week". He is most famous for being the author of five books you can purchase these books by clicking on them here:
Ron became a famous speaker in his retirement and wrote books about his memory of umpiring – all very humorous.
---
Unfortunately, Ron Luciano died at age 57 of suicide. He was found in his car in his garage in Endicott, NY, a victim of carbon monoxide poisoning, in January 1995. He had been previously hospitalized in 1994 and diagnosed with long-time depression. A sad ending for an Umpire Legend.
---
QUOTES BY RON LUCIANO
"AN UMPIRE WHO CLAIMS HE HAS NEVER MISSED A PLAY IS, WELL, AN UMPIRE."
"ANY UMPIRE WHO LASTS FIVE YEARS IN THE MINOR LEAGUES DESERVES TO BE IMMORTALIZED. ANY UMPIRE WHO LASTS TEN OR MORE YEARS IN THE MINORS DESERVES TO BE INSTITUTIONALIZED."
"THE UMPIRES HAVE KEPT THIS GAME HONEST FOR 100 YEARS. WE'RE THE ONLY SEGMENT OF THE GAME NEVER TO BE TOUCHED BY SCANDAL. WE GOTTA BE TOO DUMB TO CHEAT. WE MUST HAVE INTEGRITY BECAUSE WE SURE DON'T HAVE A NORMAL FAMILY LIFE. WE CERTAINLY AREN'T PROPERLY PAID. WE HAVE NO HEALTH CARE, NO JOB SECURITY, NO TENURE. OUR PENSION PLAN IS A JOKE. WE TAKE MORE ABUSE THAN ANY LIVING GROUP OF HUMANS AND CAN'T GIVE BACK ANY. IF WE'RE FIRED WITHOUT NOTICE OUR ONLY RECOURSE IS TO APPEAL TO THE LEAGUE PRESIDENT. AND HE'S THE GUY THAT FIRES YOU. THAT'S GOTTA BE UNCONSTITIONAL."
"I NEVER CALLED A BALK IN MY LIFE. I DIDN'T UNDERSTAND THE RULE."
"WHEN I STARTED, THE GAME WAS PLAYED BY NINE TOUGH COMPETITORS ON GRASS IN GRACEFUL BALL PARKS. BUT WHILE I WAS TRYING TO ANSWER THE DAILY QUIZ ON "QUIZ-O-GRAM" ON THE EXPLODING SCOREBOARD, A REVOLUTION WAS TAKING PLACE AROUND ME. BY THE TIME I FINISHED, THERE WERE TEN MEN ON EACH SIDE, THE GAME WAS PLAYED INDOORS ON PLASTIC, AND I HAD TO SPEND HALF MY TIME WATCHING OUT FOR A MAN DRESSED IN A CHICKEN SUIT WHO KEPT TRYING TO KISS ME."
RON LUCIANO
UMPIRE LEGEND