In umpire quotes three we look at more umpire quotes and quotes from others. Many quotes over the years have been good and not so good about the umpire profession. Hope you enjoy umpire quotes three.
"Wanting to be an umpire is tantamount to wanting to be President of the United States. I can admire their fierce sense of responsibility, whether they are right or wrong, but sometimes it comes down t being a thankless job; however the job must be done"
Art Rust in Recollections of a Baseball Junkie.
"All umpires ought to tip their hats whenever Ban Johnson's name is mentioned." (Ban a supportive American League President)
CLARENCE "PANTS" ROWLAND
"No manager ever thinks he got a break. I call them like I see them, and I don't care what team it is. If I'm right only half the time, I'm batting .500 and I never saw a ball player bat .500." (NO PICTURE AVAILABLE)
JIM ODOM
"Throwing people out of a game is like learning to ride a bicycle-once you get the hang of it, it can be a lot of fun."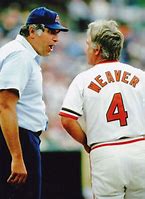 RON LUCIANO
"You've had a great night if they're not waiting for you after the game with tar and feathers."
ROCKY ROE
"Dark charged out on the field and I was shocked at the language he used. He suggested there had not been a marriage in my family for three generations."(ejecting Al Dark Manager)
BILL VALENTINE
"If the pope was an umpire he'd still have trouble with the Catholics."
JOHN "BEANS" REARDON
"He plays the bag like he came down from a higher league."(on Brooks Robinson)
ED HURLEY
"Watch umpires behind Tony Pena sometimes – you'll see time-out called a lot, and the umps walking away just to clear the air."
ERIC GREGG