There have been many umpire quotes and other baseball quotes over the years. Umpires have their own thoughts about games, game situations, and what players, coaches, and fans think of their calls. Many umpire quotes have been controversial and some have spoken to the heart of the game. Umpiring is about the spirit of the game within the structure of the rules. If you have been an umpire, you will certainly understand many of these umpire quotes and other baseball quotes. Let's take a look at the game from the umpire's perspective.
Harry S. Truman
33rd President of the United States
"I couldn't see well enough to play (baseball) when I was a boy, so they gave me a special job – they made me an umpire.
*******************************************************************************************************************************************************
"I can truthfully say that I never did like umpiring. I stayed with it because I had to eat."
Lee Ballafant
"I demand respect on the field from managers and players. To me, that's 75% of umpiring. The real test of a big league umpire is whether he can take control and run the ball game."
JOCKO CONLAN
"The best thing about umpiring is seeing the best in baseball every day. The cardinal rule of umpiring is to follow the ball wherever it goes. Well, if you watch the ball, you can't help seeing somebody make a great catch…That's what makes umpiring so much fun."
SHAG CRAWFORD
"They can holler at the uniform all they want, but when they start hollering at the man wearing the uniform, they're going to be in trouble."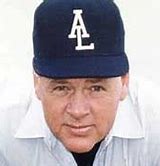 JOE BRINKMAN
"I refused to call a 52-year old man Sparky." (Tigers/Reds Manager who he called George)
AL CLARK
"I'm only one man to your thousands, but if you don't think I can protect myself just pitch in and give it a trial."
Tommy Connolly
"Maybe I called it wrong but it's official"
LARRY GOETZ
"An umpire is a loner. The restraints of his trade impose problems not normally endured by players, coaches, management, press and others connected with organized baseball. He is a friend to none. More often he is considered an enemy by all around him – including the fans in the stands who threaten his life."
The San Francisco Chronicle (1965) Art Rosenbaum
******************************************************************************************************************************************
I've never questioned the integrity of an umpire. Their eyesight, yes."
LEO DUROCHER
"Despite all the nasty things I have said about umpires. I think they're one-hundred percent honest, but I can't for the life of me figure out how they arrive at some of their decisions."
JIMMY DYKES
MANAGER ATHLETICS
"I think umpires have too much power, without any system of checks and balances and the more money a player makes, the more the umpire tries to show off that power to him. Unfortunately, since I signed my contract my strike zone has suddenly become a lot larger."
OZZIE SMITH
ST. LOUIS CARDINALS
"Let's face it. Umpiring is not an easy or happy way to make a living. In the abuse they suffer, and the pay they get for it. you see a imbalance that can only be explained by their need to stay close to a game they can't resist."
BOB UECKER
(Catcher in the Way 1982)
"Many baseball fans look upon an umpire as a sort of necessary evil to the luxury of baseball, like the odor that follows an automobile."
CHRISTY MATHEWSON
"The job of arguing with the umpire belongs to the manager, because it won't hurt the team if he gets thrown out of the game."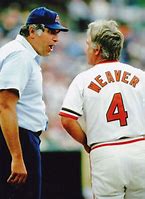 EARL WEAVER
MANAGER ORIOLES