LIZZIE "SPIKE" MURPHY
Women in baseball were popular as early as the 1860's. By then there were six or eight women's teams throughout America. The first game of record with women was in 1868. Lizzie Murphy "Spike", as she was nicknamed, played in the women's leagues from 1918 to 1935. Everyone knew Lizzie. She was very popular and hers was a treasured autograph.
In 1931 a lady by the of name of Jackie Mitchel signed a contract in professional baseball with Class AA. In an exhibition game with the New York Yankees she struck out Lou Gehrig and Babe Ruth back to back. Some say they weren't trying as hard as they could have. Baseball commissioner, Kennesaw Landis, voided her contract as he believed women could not compete with the men.
JACKIE MITCHELL
BABE RUTH & LOU GEHRIG NEW YORK YANKEES
Philip K. Wrigley, famous owner of the Chicago Cubs, founded a women's league, the "All-American Girl Pro Baseball League", that maxed out at ten teams in 1943. Wrigley had no interest in the rights of women and was strictly a business man. His goal was to keep the fans coming to games during World War II. These women baseball stars were hard-nosed players. Most of them came from softball backgrounds. They still wore skirts and makeup even though they came from the tough backgrounds. These ladies had many restrictions as players, including no arguing with umpires and no smoking, drinking or partying in public. And of course, they had their own following of fans.Most of the women in baseball were single. However, some were married but very few were mothers. In the 1960's mother and son baseball games were common. In California one Mom stood out from the others in a mother-son baseball game. The lady was Helen Candaele. She was one of the professional baseball women depicted in the movie "A League of Their Own". Helen had to be barred from these games as she had a lightning quick delivery and fastball. She would strike everyone out. First they would not allow her to pitch, then they did not allow her to play at all. Her son Casey said "They made my Dad play – he was a hockey goalie instead. Mom was too good."
HELEN CANDAELE
Helen's maiden name was Helen Callaghan St. Aubin and she was one of the best players in the "AAGPBL". This league was popular from 1943 to 1954. Kelly Candaele, Casey's brother, explained all about his Mom. He was the producer of the movie "A League of Their Own" in 1993 starring Tom Hanks, Gena Davis and Madonna. After the explanation about Helen's baseball talent and great throwing arm, people would ask "softball"? No girls can throw – oh yes they can!
Dorothy Kamenshek was said to be the best lady player in the AAGPBL with a life time .292 batting average with two batting titles and seven All-Star appearances.
Click here to read more about Dorothy Kamenshek the AAGPBL's best.
THE ROCKFORD PEACHES
"A LEAGUE OF THEIR OWN"
---
These women in baseball were paid well for their services, $40 to $80 weekly. They also packed the ballparks especially during their world series, which was named the Shaughnessy Series, the AAGPBL championship series. They played every day of the season, including double-headers on Sunday. A season was 108 games.
Initially the pitcher's mound was 42′ from home plate. The first three years pitchers threw underhand and the ball was near the size of a softball. The bases were 68′ apart. In 1948 the mound was moved to be 50′ from the late. The lady pitchers threw overhand by then and the bases were 72′ apart. In the last year of play, the baseball was just about the size of a regular baseball and the bases were 85′ apart. The mound was 60′ from the home plate. (In MLB Rules the mound is 60'6″ from home plate and bases are 90′ apart) In 1954 the AAGPBL was finished, ended by TV and Radio.
Throughout the years women in baseball have contributed to this great game. Effa Manley ran the Newark Eagles in the Negro League for a decade. When her husband Abe passed away, she took over the operation of the team. In 1997 Marge Schott sold the Cincinnati Reds having owned them for 15 years. Bernice Gera was the first woman umpire in professional baseball. She resigned after working one game in Class A in 1972. She later said, "It's hard to get used to people spitting at you and threatening your life." Christine Wren also worked as an umpire in the minor leagues. Pam Postema was AAA umpire 13 years.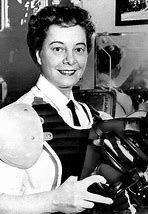 Baseball and women have been together for a long time and their many contributions have been tremendous.